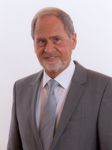 Dipl. Phys. Hansjörg Glöckner – CEO
Mr. Dipl. Phys. Hansjörg Glöckner is the CEO of the "BELLRINGER GmbH". After having done his apprenticeship as an electrician he went on to study Atom- and Nuclear Physics at the University of Karlsruhe. Further study was undertaken at the "Nuclear Research Centre Karlsruhe" as well as at the international "Nuclear Research Centre CERN in Geneva (Switzerland). He has also worked in the reliability-management of the aircraft industry - development of the "MRCA-Tornado". Furthermore he studied Real Estate Management and graduated with the degree "Immobilienwirt Dipl. VWA". For more than 20 years now, Mr. Hansjörg Glöckner is operating in Real Estate Project Development – there from with 10 years as the CEO of an international property development and investment enterprise.

In recent years, he was dealing with Qi Gong, Tai Chi and in this relation with the interrelation of the flow of energy within the human body and in nature, particular with recognising and solving of blockades. The experiences gained from holistic considerations of human beings and nature are transferred to real estate by the "Bio-Energetic Project Development". The adoption of holistic consideration of real estate by Mr. Hansjörg Glöckner has come about from both personal experience - whereby some real estate projects have succeeded and others - despite external factors promising success have failed, but also from the profound experience and knowledge of the healing of critical diseases by the teachings and practices of alternative and holistic therapies. Persons blessed with corresponding abilities did open his "eyes" a little for the subtle coherence in the world and did prepare the way for the holistic approach of life.